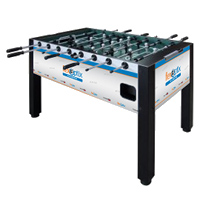 The RIPE 63 Foosball Tournament was a huge success, so Flexoptics and the RIPE NCC are challenging you again for RIPE 64.
Think you've got what it takes to reign supreme on the foosball table? Show your skills in the RIPE 64 Foosball Tournament.
The winning team takes home bragging rights and the prize of a World Championship Foosball Table shipped anywhere in the RIPE NCC service region.
All competitors will receive a memento of their participation.