369 attendees checked in so far!
Rate the Plenary Presentations
Tell us what you thought about the Plenary presentations online.
Ratings will only be visible to the RIPE Programme Committee.
You must log in to RIPE NCC Access to rate presentations.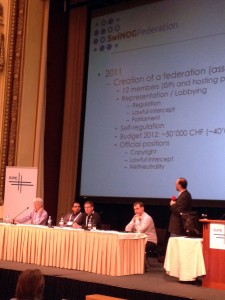 Tuesday Morning Plenary – From NOGs to ROAs
The first session of Tuesday morning began with two technical presentations from Ivan Pepelnjak, NIL Data Communications: "Cloud Networking – From Theory to Practice" and "Data Centre Fabrics – What Really Matters". The presentations generated a lot of discussion. The session concluded with a lively panel session on how to start a Network Operators Group (NOG), with representatives from ENOG, MENOG, SwiNOG and UKNOF sharing their stories and the lessons they've learned along the way.
The second plenary session of the day was security and routing related. First up was Joseph Gersch, Secure64 Software Corporation, and Dan Massey, Colorado State University, with an in-depth look at BGP Route Origin Verification Using Reverse-DNS. Alex Band, RIPE NCC, then presented on the Resource Certification (RPKI) service offered by the RIPE NCC. He elaborated on what steps the RIPE NCC will take to make the service as secure and resilient as possible, as well as focusing on maximising operator autonomy. The session concluded with a presentation from Randy Bush, Internet Initiative Japan, with "Relying/Issuing Parties and ROA Validation".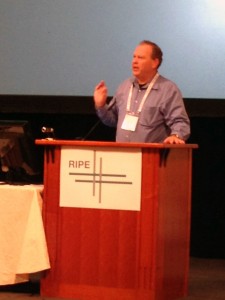 IPv6 Metaphors From Geoff: Tuesday Afternoon Plenary Highlights
The first session after lunch turned the focus to IPv6, with three presentations coming at the topic from different directions. APNIC's Geoff Huston gave his second presentation of the meeting, with a study of IPv6 performance in a variety of browsers and operating systems – no trains, but happy eyeballs and some memorable racehorse metaphors: "If you run a two-horse race, you send them together. You don't wait for one to die before sending the other!"
Andrei Robachevsky, Internet Society, presented on the World IPv6 Launch event, which will take place in June this year, following from 2011's World IPv6 Day: "This time it's for real!" And sticking with the real-world, Tore Anderson, of Redpill Linpro, wrapped up the session with a presentation on his experience with IPv6-only data centers, including a discussion of the use of Stateless IP/ICMP Translation (SIIT).
The final Plenary session on Tuesday shifted back to the IPv4 discussion; specifically a look at the new world of IPv4 transactions from Sandra Brown of the IPv4 Market Group. The lightning talk sparked discussion of how brokers tackle the challenges associated with IPv4 markets, approaches in other RIR communities and the potential for inter-region transfers. Matjaž Straus Istenič, of ARNES, also gave a lightning talk, laying out his "Poor Man's DoS Protection".
David Temkin examined the performance of UK/Irish ISPs based on Netflix experience (with some favorable comparisons to the US market), while Neustar's Edward Lewis delved into the world of TLD DNSSEC Practices. The session wrapped by veering into Internet governance territory, with a panel discussion on French Governmental Transnational Regulation of Peering – audio issues with some of the remote panelists who were participating over Skype made the RIPE Meeting's prized stenographers more appreciated than ever!
BoFs so Far: RIPE NCC Executive Board, RIPEstat and RRToolSet NG BoF
On Tuesday morning, the Meet the RIPE NCC Executive Board BoF took place at 08:00 and attracted several early risers. They had an informal breakfast with the Board and discussed the organisation and the upcoming RIPE NCC General Meeting.
On Monday, the fourth RIPEstat demo of 2012 included a description of new features, the announcement of a survey (with a prize draw) and opportunities for interaction with developers, users and RIPE NCC staff. A full report of the BoF can be found online. The RRToolSet NG BoF kicked off with a presentation about IRRPowerTools and was followed with a talk about the current IRRToolset status and thoughts about why RPSL is no good. The last presentation of the session was about ideas for possible ways forward. Several developers/maintainers of the different IRR/RPSL toolsets were at the BoF, and there was some interest in discussing what a next generation toolset should look like, either incorporating an existing standard like RPSL, or newly developed standards like RPKI. Unfortunately, the BoF went over time but a mailing list will be set up so that the discussions can continue.
Postojna Cave Tour and Dinner
After a very successful Day Two, the day ended with a very cool (literally!) tour through the Postojna karst cave system and a delicious dinner at the Jamski Dvorec Mansion. Many thanks to the social event sponsors, 6connect, MRV, Google and Sparkle for a memorable evening!