Attendees checked in: 400
Address Policy Working Group I
Emilio Madaio, RIPE NCC, gave an overview on policy topics being discussed in all RIR regions and a summary of the current policy proposals in the RIPE NCC service region. Alex le Heux, RIPE NCC, gave an update on recent RIPE NCC Registration Services (RS) activities. Gert Doering, Address Policy Working Group co-Chair, mentioned the two policy proposals currently in the Last Call phase: 2011-04, "Extension of the Minimum Size for IPv6 Initial Allocations" and 2011-05, "Safeguarding Future IXPs with IPv4 Space". Sandra Brown, IPv4 Market Group, presented her proposal, 2012-01, "Inter-RIR IPv4 Address Transfers". She referred to the input received on the APWG mailing list and announced that she will withdraw her proposal and that two new proposals would be submitted together with Remco van Mook and James Blessing. Remco introduced the proposals (not yet submitted) on inter-RIR transfers (2012-02) and intra-RIR transfers (2012-03). There were a lot of comments from the attendees about this and it was clear that more discussion will be needed once this proposal has been submitted.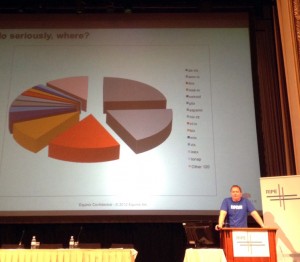 EIX Working Group
Remco van Mook, Equinix, started the session with a presentation comparing interconnection markets. Arnold Nipper, DE-CIX, then shared his thoughts on the pros and cons of interconnecting IXPs. His presentation prompted an engaging dialogue from attendees in the room and those following remotely. Kurtis Lindqvist, Netnod, presented "The History of Peering in Europe and What This Can Teach Us About the Future", followed by a presentation by Martin Levy, Hurricane Electric, on Jumbo Frames. The session concluded with Harald Michl, Univie / ACOnet / VIX, giving an update on the IXP Wishlist, followed by a a EURO-IX update from Bijal Sanghani and IXP lightning updates.
DNS Working Group I and II
The session began with an update from the RIPE NCC and several presentations dealing with DNSSEC: sharing deployment experiences and commonly encountered problems. The second session included updates about Yadifa, KNOT and OpenDNSSEC with developments since RIPE 63. Robert Kisteleki, RIPE NCC, presented enhancements to RIPE Atlas that allow tracing DNS issues over both UDP and TCP. A panel composed of Joao Damas, ISC, Brian Nisbet, HEAnet and Jochem de Ruig, RIPE NCC, discussed the DNSChanger event and possible fallout from the Law Enforcement Agency (LEA) side, as well as implications for the RIPE community and the RIPE NCC.
ENUM Working Group
This morning's ENUM session had a full agenda. Alex Mayrhofer, nic.at, presented "ENUM – Successes, Failures, Alternatives", up next was Wolfgang Tremmel, DE-CIX, with "NGN Services". Ann Barcomb, RIPE NCC, gave an update on RIPE NCC's ENUM activities. Niall O'Rially, ENUM Working Group co-Chair, presented "ENUM Status", followed by Denesh Bhabuta, D&A Events, with an update on action items.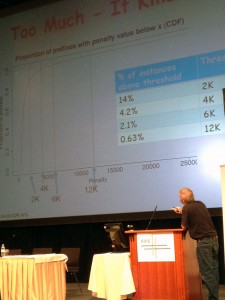 Routing Working Group
Geoff Huston, APNIC, reassured the attendees that, in the eBGP world, routing table growth is not a problem. Randy Bush, IIJ, found a "horrible hack" and explained that, by changing only two constants, or with only one line of code, Route Flap Damping can be made useful again. This provoked a lively discussion.
Alexander Asimov, HLL, expressed his concerns about BGP Route Stability and it was suggested that RIPE Atlas may be able to address these issues. There will be a follow-up on this during the RIPE Atlas Users Meetup – User-Defined Measurements (UDM) BoF on Thursday, 17:45.
RIPE NCC Services Working Group
Axel Pawlik, RIPE NCC Managing Director, gave a RIPE NCC update, highlighting the activities that the RIPE NCC is currently working on. Andrew de la Haye, RIPE NCC COO, talked about developments in member services, including the IP Analyser tool, a new customer satisfaction survey and training webinars. Niall O'Reilly, University College Dublin, presented "Services for Legacy Resource Holders", explaining that a clear policy derived from stakeholder consensus needs to be developed. His talk prompted a lot of discussion. "IPv4 Final Distribution Process" was presented by Andrea Cima, RIPE NCC Registration Services Manager, who explained how processes and procedures for requesting IPv4 address space will change as we get closer to reaching the last /8. He invited the attendees to go to the Info Hub at 15:30 on Thursday if they would like to chat informally about reaching the last /8. Jochem de Ruig, RIPE NCC's CFO, presented "Cross-border Law Enforcement" followed by Daniel Karrenberg, RIPE NCC's Chief Scientist, with "The Future of TTM & DNSMON Services".