---
Monday, 16 April
Opening Plenary
RIPE 64 was opened by Rob Blokzijl, RIPE Chair. Dr. Žiga Turk, Slovenian Ministry of Education, Science, Culture and Sport then gave a welcome address which stressed the importance of investing in the next generation of an open and transparent Internet for Slovenia and the rest of the world. He provided a government's perspective on the run out of IPv4 address space, explaining that IPv6 offers countless opportunities for development. The RIPE 64 Meeting hosts, Jan Žorž (Go6), Marko Bonač (Arnes), Andrej Kos (LTFE) and Franc Dolenc (Post and Electronic Communications Agency of the Republic of Slovenia) also gave short welcome addresses. The session continued with Greg Hankins, Brocade, presenting "Pushing the Limits, a Perspective on Router Architecture Challenges", and Richard A Steenbergen, nLayer Communications, presenting "MPLS RSVP‐TE Auto‐Bandwidth: Lessons Learned".
Celebrating 20 Years of the RIPE NCC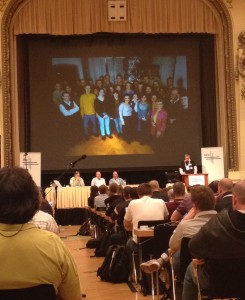 The second plenary session started with a presentation from Gorazd Božič, ARNES, SI‐CERT. Gorazd explained the difficulties he experienced with trying to have sensitive Slovenian material removed from YouTube. Suitably, this was followed up by a presentation from Mike Hearne from Google. Mike focused on the problem of spam and Gmail, and more generally the abuse Google is seeing in 2012 and the report handling procedure Google uses. The session concluded with a special set of presentations around the theme "20 Years of the RIPE NCC". The RIPE NCC's Chief Scientist, Daniel Karrenberg, started proceedings by looking back at the last 20 years, thanking staff past and present, RIPE NCC members and the RIPE community for the contribution they've made to the RIPE NCC. The Chairman of the RIPE NCC Executive Board, Nigel Titley, followed by looking at the issues facing the RIPE NCC today and stressing that the membership could and should make its voice heard so the RIPE NCC could take the right course. Finally, APNIC's Chief Scientist, Geoff Huston, did what he does best and looked to the future to see what might lie in store for the Internet.
RIPE NCC 20 Years Quiz – Win an iPad!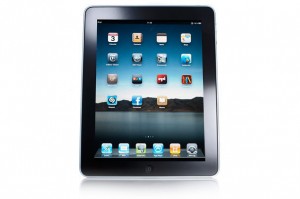 To celebrate the RIPE NCC's 20th birthday, we've created a quiz for RIPE 64 attendees to test their RIPE NCC knowledge. Pick up a quiz sheet from the Registration Desk, fill it in and then give it back to the Registration Desk. The sheets with the most correct answers will be submitted into a prize draw for an iPad at the end of the week!
Monday Morning Tutorials
Two tutorials were held before RIPE 64 kicked off on Monday morning. Both the Resource Certification (RPKI) and the Debugging your DNS tutorials were well attended.
Unwinding at the Welcome Event
A stimulating first day at RIPE 64 was followed by a well-attended Welcome Event sponsored by Brocade. Attendees gathered to discuss the day's hot topics, meeting highlights and to catch up with their industry peers.
Meet the Executive Board BoF Tuesday 08:00 – 09:00
The RIPE NCC Executive Board invites you to an informal breakfast meeting to talk about the RIPE NCC and its services. This BoF takes place in the Blue Room.
Rate Plenary Session Presentations
Don't forget that you can rate the plenary session presentations for the whole week. Simply go to the plenary session pages and log in with your RIPE NCC Access account on the right hand side of the screen.
---
Tuesday, 17 April
Rate the Plenary Presentations
Tell us what you thought about the Plenary presentations online.
Ratings will only be visible to the RIPE Programme Committee.
You must log in to RIPE NCC Access to rate presentations.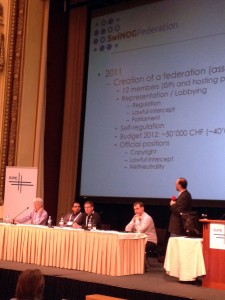 Tuesday Morning Plenary – From NOGs to ROAs
The first session of Tuesday morning began with two technical presentations from Ivan Pepelnjak, NIL Data Communications: "Cloud Networking – From Theory to Practice" and "Data Centre Fabrics – What Really Matters". The presentations generated a lot of discussion. The session concluded with a lively panel session on how to start a Network Operators Group (NOG), with representatives from ENOG, MENOG, SwiNOG and UKNOF sharing their stories and the lessons they've learned along the way.
The second plenary session of the day was security and routing related. First up was Joseph Gersch, Secure64 Software Corporation, and Dan Massey, Colorado State University, with an in-depth look at BGP Route Origin Verification Using Reverse-DNS. Alex Band, RIPE NCC, then presented on the Resource Certification (RPKI) service offered by the RIPE NCC. He elaborated on what steps the RIPE NCC will take to make the service as secure and resilient as possible, as well as focusing on maximising operator autonomy. The session concluded with a presentation from Randy Bush, Internet Initiative Japan, with "Relying/Issuing Parties and ROA Validation".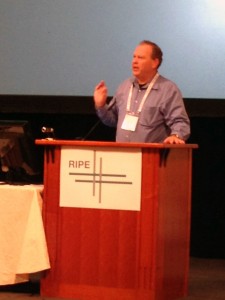 IPv6 Metaphors From Geoff: Tuesday Afternoon Plenary Highlights
The first session after lunch turned the focus to IPv6, with three presentations coming at the topic from different directions. APNIC's Geoff Huston gave his second presentation of the meeting, with a study of IPv6 performance in a variety of browsers and operating systems – no trains, but happy eyeballs and some memorable racehorse metaphors: "If you run a two-horse race, you send them together. You don't wait for one to die before sending the other!"
Andrei Robachevsky, Internet Society, presented on the World IPv6 Launch event, which will take place in June this year, following from 2011's World IPv6 Day: "This time it's for real!" And sticking with the real-world, Tore Anderson, of Redpill Linpro, wrapped up the session with a presentation on his experience with IPv6-only data centers, including a discussion of the use of Stateless IP/ICMP Translation (SIIT).
The final Plenary session on Tuesday shifted back to the IPv4 discussion; specifically a look at the new world of IPv4 transactions from Sandra Brown of the IPv4 Market Group. The lightning talk sparked discussion of how brokers tackle the challenges associated with IPv4 markets, approaches in other RIR communities and the potential for inter-region transfers. Matjaž Straus Istenič, of ARNES, also gave a lightning talk, laying out his "Poor Man's DoS Protection".
David Temkin examined the performance of UK/Irish ISPs based on Netflix experience (with some favorable comparisons to the US market), while Neustar's Edward Lewis delved into the world of TLD DNSSEC Practices. The session wrapped by veering into Internet governance territory, with a panel discussion on French Governmental Transnational Regulation of Peering – audio issues with some of the remote panelists who were participating over Skype made the RIPE Meeting's prized stenographers more appreciated than ever!
BoFs so Far: RIPE NCC Executive Board, RIPEstat and RRToolSet NG BoF
On Tuesday morning, the Meet the RIPE NCC Executive Board BoF took place at 08:00 and attracted several early risers. They had an informal breakfast with the Board and discussed the organisation and the upcoming RIPE NCC General Meeting.
On Monday, the fourth RIPEstat demo of 2012 included a description of new features, the announcement of a survey (with a prize draw) and opportunities for interaction with developers, users and RIPE NCC staff. A full report of the BoF can be found online. The RRToolSet NG BoF kicked off with a presentation about IRRPowerTools and was followed with a talk about the current IRRToolset status and thoughts about why RPSL is no good. The last presentation of the session was about ideas for possible ways forward. Several developers/maintainers of the different IRR/RPSL toolsets were at the BoF, and there was some interest in discussing what a next generation toolset should look like, either incorporating an existing standard like RPSL, or newly developed standards like RPKI. Unfortunately, the BoF went over time but a mailing list will be set up so that the discussions can continue.
Postojna Cave Tour and Dinner
After a very successful Day Two, the day ended with a very cool (literally!) tour through the Postojna karst cave system and a delicious dinner at the Jamski Dvorec Mansion. Many thanks to the social event sponsors, 6connect, MRV, Google and Sparkle for a memorable evening!
---
Wednesday, 18 April
Address Policy Working Group I
Emilio Madaio, RIPE NCC, gave an overview on policy topics being discussed in all RIR regions and a summary of the current policy proposals in the RIPE NCC service region. Alex le Heux, RIPE NCC, gave an update on recent RIPE NCC Registration Services (RS) activities. Gert Doering, Address Policy Working Group co-Chair, mentioned the two policy proposals currently in the Last Call phase: 2011-04, "Extension of the Minimum Size for IPv6 Initial Allocations" and 2011-05, "Safeguarding Future IXPs with IPv4 Space". Sandra Brown, IPv4 Market Group, presented her proposal, 2012-01, "Inter-RIR IPv4 Address Transfers". She referred to the input received on the APWG mailing list and announced that she will withdraw her proposal and that two new proposals would be submitted together with Remco van Mook and James Blessing. Remco introduced the proposals (not yet submitted) on inter-RIR transfers (2012-02) and intra-RIR transfers (2012-03). There were a lot of comments from the attendees about this and it was clear that more discussion will be needed once this proposal has been submitted.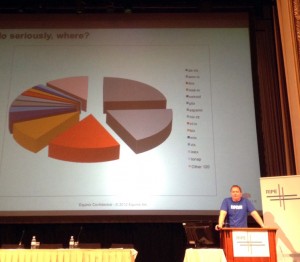 EIX Working Group
Remco van Mook, Equinix, started the session with a presentation comparing interconnection markets. Arnold Nipper, DE-CIX, then shared his thoughts on the pros and cons of interconnecting IXPs. His presentation prompted an engaging dialogue from attendees in the room and those following remotely. Kurtis Lindqvist, Netnod, presented "The History of Peering in Europe and What This Can Teach Us About the Future", followed by a presentation by Martin Levy, Hurricane Electric, on Jumbo Frames. The session concluded with Harald Michl, Univie / ACOnet / VIX, giving an update on the IXP Wishlist, followed by a a EURO-IX update from Bijal Sanghani and IXP lightning updates.
DNS Working Group I and II
The session began with an update from the RIPE NCC and several presentations dealing with DNSSEC: sharing deployment experiences and commonly encountered problems. The second session included updates about Yadifa, KNOT and OpenDNSSEC with developments since RIPE 63. Robert Kisteleki, RIPE NCC, presented enhancements to RIPE Atlas that allow tracing DNS issues over both UDP and TCP. A panel composed of Joao Damas, ISC, Brian Nisbet, HEAnet and Jochem de Ruig, RIPE NCC, discussed the DNSChanger event and possible fallout from the Law Enforcement Agency (LEA) side, as well as implications for the RIPE community and the RIPE NCC.
ENUM Working Group
This morning's ENUM session had a full agenda. Alex Mayrhofer, nic.at, presented "ENUM – Successes, Failures, Alternatives", up next was Wolfgang Tremmel, DE-CIX, with "NGN Services". Ann Barcomb, RIPE NCC, gave an update on RIPE NCC's ENUM activities. Niall O'Rially, ENUM Working Group co-Chair, presented "ENUM Status", followed by Denesh Bhabuta, D&A Events, with an update on action items.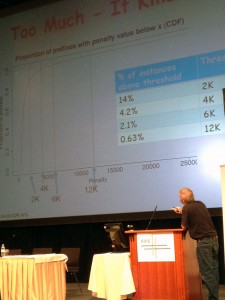 Routing Working Group
Geoff Huston, APNIC, reassured the attendees that, in the eBGP world, routing table growth is not a problem. Randy Bush, IIJ, found a "horrible hack" and explained that, by changing only two constants, or with only one line of code, Route Flap Damping can be made useful again. This provoked a lively discussion.
Alexander Asimov, HLL, expressed his concerns about BGP Route Stability and it was suggested that RIPE Atlas may be able to address these issues. There will be a follow-up on this during the RIPE Atlas Users Meetup – User-Defined Measurements (UDM) BoF on Thursday, 17:45.
RIPE NCC Services Working Group
Axel Pawlik, RIPE NCC Managing Director, gave a RIPE NCC update, highlighting the activities that the RIPE NCC is currently working on. Andrew de la Haye, RIPE NCC COO, talked about developments in member services, including the IP Analyser tool, a new customer satisfaction survey and training webinars. Niall O'Reilly, University College Dublin, presented "Services for Legacy Resource Holders", explaining that a clear policy derived from stakeholder consensus needs to be developed. His talk prompted a lot of discussion. "IPv4 Final Distribution Process" was presented by Andrea Cima, RIPE NCC Registration Services Manager, who explained how processes and procedures for requesting IPv4 address space will change as we get closer to reaching the last /8. He invited the attendees to go to the Info Hub at 15:30 on Thursday if they would like to chat informally about reaching the last /8. Jochem de Ruig, RIPE NCC's CFO, presented "Cross-border Law Enforcement" followed by Daniel Karrenberg, RIPE NCC's Chief Scientist, with "The Future of TTM & DNSMON Services".
---
Thursday, 19 April
Address Policy Working Group II
The first session of the day began with Sander Steffann, Address Policy Working Group co-Chair, explaining how consensus on a policy is determined. Comments from attendees emphasised the importance of giving constructive feedback. Rob Blokzijl, RIPE Chair, then presented a potential policy proposal, the "IPv4 Maintenance Policy", to simplify and consolidate existing IPv4 policies into one policy following IPv4 exhaustion. There was a lengthy discussion that will be continued on the mailing list. Gert Döring, Address Policy Working Group co-Chair, gave a brief update on the long-term project to unify IPv6 PI and PA policies into a single document, followed by Jan Žorž, go6, who led a discussion on revisiting the IPv6 "additional allocation" policy, particularly whether the HD-ratio should continue to be used as the basis for subsequent allocations (with some spirited arguments on either side). The audience reached a rough agreement on the benefit of HD-ratio in the long-term and a policy was deemed unnecessary. Nick Hilliard concluded the session with a short presentation of a forthcoming policy proposal that will change the current last /8 policy.
Anti-Abuse Working Group
The Anti-Abuse Working Group session was well attended and included a presentation from But Klaasen from the Ministry of Security and Justice in the Netherlands. His presentation highlighted Dutch efforts to combat illegal use of the Internet. Laura Cobley from the RIPE NCC also presented on the new RIPE NCC Reporting Procedure. Working Group co-Chair Brian Nisbet gave a status update on RIPE Policy 2011-06.
IPv6 Working Group I and II
Erika Heraeus, Swedish Post and Telecommunications Regulator, presented on how they are fostering IPv6 deployment in Sweden and asked for feedback from the technical community about the guidance document they published recently. RIPE NCC staff presented on IPv6 allocations that showed a fairly constant number of 70-80 IPv6 allocations per month after a peak of over 200 allocations last year when IANA handed out the last IPv4 blocks to the RIRs. After Jari Arkko, Ericsson, presented his experiences in setting up automatic home networking, there was a lively discussion about the choice between RIP and OSPF and if a routing protocol is needed at all or if bridging would be enough. Eric van Uden, AVM, spoke about how AVM is handling the different equipment profiles and standards. Tahar Schaa, consultant for the German government, gave an update on their IPv6 rollout and the recommendation document they are producing based on ripe-501, "Requirements For IPv6 in ICT Equipment".
Database Working Group
The RIPE NCC gave an overview and explained that all DOMAIN objects from the TLD operators have been deleted. The RIPE NCC had also investigated UTF-8 support in the RIPE Database, and found that the database technically accepts UTF-8 values, but it is not recommended because there may well be technical issues, and because there is no current policy governing its use. 'auth:' lines in MNTNER objects had been hidden to avoid exposing MD5 hashes and concerns were raised that this change broke some automated scripts. Optional geolocation and language attributes have been added to INET(6)NUM and ORGANISATION objects. Wilfred Woeber took an action in his personal capacity to generate discussion on the mailing list on further impacts, including how to engage existing geolocation providers and the implications for content providers who restrict access using geolocation data. Robert Kisteleki, RIPE NCC, presented two new RIPEstat widgets that feature RIPE Database information – a hierarchical view of inet(6)nums, and a generic object browser showing relationships between objects.
Cooperation Working Group
The Cooperation Working Group started off with an examination of issues surrounding the ongoing revision of the International Telecommunication Regulations (ITRs) and how this might affect the Internet community. BT's Phil Rushton offered the choice between optimism and pessimism, but suggested informed caution as the negotiations continue through 2012. Rüdiger Martin, European Commission, delivered a presentation on the work being done by the European Commission's Future Networks program, followed by Paul Rendek, RIPE NCC, who reported on the establishment of the Arab Internet Governance Forum, which will hold its first meeting in October 2012. There were also brief updates from Erika Hersaeus, Swedish Post and Telecom Agency, on EuroDIG (the European Dialogue on Internet Governance) and Nurani Nimpuno, Netnod, on the Internet Governance Forum.
MAT Working Group
Amund Kvalbein, Simula, gave a presentation on how mobile broadband data in Norway is measured. This was followed by Vesna Manojlovic, RIPE NCC, who gave an update on new functionality in RIPE Atlas and RIPEstat. George Michaelson, APNIC, talked about how they are using paid Google advertisements to measure IPv6. Tiziana Refice and Meredith Whittaker, Google, talked about their MLab project that will ultimately generate 500 TB of data, which can be analysed using cloud based tools. Lastly, Daniel Karrenberg, RIPE NCC, talked about the measurements strategy for 2012/2013. This involves new RIPE Atlas anchors, which provide more functionality than regular probes and he discussed discontinuing the TTM servers, which means that the DNSMON service will be offered using a different platform.
Friday, 20 April
RIR/NRO Reports
The first session on Friday morning was the RIR/NRO reports. The following updates were given:
The last section of the session was taken up with elections for the RIPE Programme Committee (PC), the results of which were announced in the Closing Plenary.
Closing Plenary
The Closing Plenary of RIPE 64 saw Jan Zorz elected to the PC. After a successful RIPE Meeting, Jan was a popular choice and the announcement was very warmly received. We'd like to thank Jan and all the RIPE Meeting hosts for having us this week.
There were four lightening talks from Todd Woodbridge, Carlos Martinez, Alexander Lyamin and Sergey Myasoedov.
Razvan Oprea from the RIPE NCC gave the technical update from the RIPE NCC. It was a very good week from a technical point of view, and Razvan noted that this was largely due to the feedback received from the RIPE Meeting attendees.
RIPE Chair Rob Blokzijl gave the meeting statistics. There were 410 meeting attendees, and 33% of these were first-time RIPE Meeting attendees, which is very encouraging. He concluded by inviting everyone to come to RIPE 65 in Amsterdam. We hope to see you there.